| | | |
| --- | --- | --- |
| Academic member of GALA | Phrase Academic Program | Trados Academic Program |
Initiated in 2000, this is a one-year course (two-years part-time) designed for translators and writers working with Spanish and English, as well as trainees and teachers wishing to develop competence in this field. The course includes a practicum in a translation-related business. From 2020, it is taught entirely online.
Aims
To develop a broad range of professional skills in technical, legal and financial translation, and provide a functional introduction to new translation technologies.
Languages
Classes are taught in English and Spanish.
Modules and courses
Translation as a profession; Translation strategies and problem-solving; Translation technologies; Subtitling; Revising, Editing and post-editing translations; Specialized translation (technical, legal, and financial translation); Work placement; Masters thesis. See further details here.
Entrance requirements
Students are required to have C1 level in both Spanish and English. Students will require a portable computer and must hold a first degree (BA, Licenciatura, Grado) in any field. Non-Spanish degrees will have to obtain accreditation within the Spanish system before the Masters diploma can be issued. See further information here.
The student intake is currently restricted to 25 students.
Fees
The fee for the course is about 2,900 euros, depending on where you are located.
Duration
The course comprises 60 ECTS credits over one year (full time) or two years (part-time).
Classtimes
Online synchronous and interactive classes are conducted from 2.15 to 4.15 in the afternoon Central European Time. All classes are recorded and made available to students who cannot attend synchronously. This is not the kind of online course where you watch a video, answer some questions, and get a certificate. We will train you interactively.
Starting date.
1 October each year.
Completion
Award of the Masters will depend on successful completion of an exam at the end of the first year and of a major project by 31 May.
Instructors

Further information
Frequently asked questions here

Pre-enrollment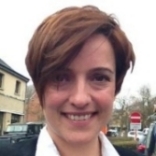 "A must-have for editors and proofreaders dealing with scientific or technical texts. I learned many editing techniques and was able to immediately put them to practice. My customers were thrilled at how smoothly I could bring clarity and simplicity to intricate constructions and obscure jargon. I would recommend it to anyone!"
Alison Williams, Global Internal Communications Business Partner at Azelis