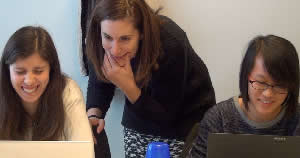 Who are the courses for?
All the courses are designed for mixed learning groups with complementary linguistic and technical competencies. Students whose English is better than their Spanish will be required to work in tandem with students whose Spanish is better than their English.
What languages do I have to know?
The face-to-face courses are designed so that non-Spanish students can further their translation skills at the same time as they improve their knowledge of Spanish. The Language Service of the university offers advanced language classes alongside the technical translation seminars. All classes are taught in English or Spanish. Students will need a solid knowledge of Spanish in order to complete the learning activities.
Are there any scholarships or grants?
Free tuition is awarded to one applicant per year. Otherwise there are no scholarships or grants specific to this program or administered by this program. See here for the various funding opportunities available.
What kind of translation technologies will I learn?
All students will learn to use translation memories and will be required to use them constantly. Some activities will require postediting of statistical-machine-translation output. Students will also learn the basics of tools for terminology management and subtitling.
What kind of computer will I need?
In principle, all students are required to work on their own laptops, which they should bring to class. Students can use a Mac, although some of the translation-memory software (MemoQ mainly) will not work on a Mac. Web-based alternatives can be used.
What are the admission requirements?
Masters students are required to have completed a first university degree (BA, Licenciatura, or equivalent) in any field and to have adequate levels in Spanish and English. Mother-tongue competence is not required.
Where can I find accommodation?
Students seeking accommodation in Tarragona are advised to contact the university's Accommodation Office.
Where should I apply for enrollment?
Click here to complete the pre-registration.
When should I apply?
The first round of candidatures for the Masters is from March 1 to April 30. If there are still vacancies, the second round is from May 20 to June 15.
Where can I find more information?
Foreign students may want to visit the university web site.
Are the classes crowded?
No. We only accept a maximum of 20 students per program so that we can ensure individualized attention.
Will this Masters help me find a job?
The Masters will add a range of key linguistic and communication skills to your repertoire, and the work placement can put you in contact with potential employers. Assistance with job searches is available at the URV Employment Office.
More questions?
"I could not have launched my translation career without going through the URV Masters in Translation. The program provided me with tools and confidence to become a professional translator.
Being proficient in a second or third language is not a sufficient qualification for translation work. The courses provided the practice and hands-on experience as well as the theoritical background and approaches needed to succeed in the ever changing field of professional translation. I also found my first client through the programme and continue to work with them after eight years."
Mark Riepling, Translation and Localization Consultant and Contractor, San Francisco and Tarragona